No one understands your skin better.
Clarins pedigree is impeccable. This serious French skin care brand was conceived over 50 years ago for use in skin-perfecting facials and body treatments. Which is why today, Clarins has the range to offer a tailored solution for every skin type, age and condition with products that deliver instant, visible results. From super-efficient Cleansers and Exfoliators to ultra-intensive Masks and Serums, specialised Eye Contour Care, Neck Care , Day and Night Treatments. Clarins is also renowned for fool-proof self tanning, super-sophisticated sun protection, problem-solving body care and no-nonsense skin care for men.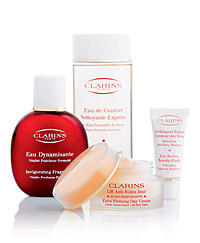 At the heart of every Clarins product is a potent cocktail of time-proven plant extracts and some exceptional science. Because plants and herbs contain the most effective yet gentle skin re-balancing properties and create uniquely sensory textures and fragrances.
And if you like your make-up fresh, contemporary and flawless then don't miss Clarins Make-up Collection. It features the prettiest shades of sheer cream Multi-Blush, mouthwatering Colour Quench Lip Balms and the award-winning Instant Smooth under make-up skin perfector.
Then there's Clarins secret ingredient…the Clarins Specialists and Beauty Therapists based in-store, who have a wealth of expertise and a passion for making your visit a one-of-a-kind experience. With Clarins, life really is more beautiful.
Testing
Our respect for the environment goes beyond our choice of ingredients. In 1987, Clarins was the first French company to cease product testing on animals.
Product safety and efficacy
Since 1954, the Clarins Group has used its unrivalled expertise in the field of beauty to produce the safest, most effective products that deliver genuine results.
The Clarins Group has always made safe use a number-one priority and, believing in the true efficacy of plants, has no ingredients of animal origin in its formulas. All raw materials are monitored by on-going quality controls and their safety is proven using the most reliable test methods