Mouth Ulcers
Mouth ulcers, also called canker sores, aphthous stomata and recurrent aphthous stomatitis, mostly occur on the inner cheek, inner lip, tongue, soft palate, floor of the mouth, and sometimes the throat. They are usually about 3-5mm in diameter - though for those sufferring chronic mouth ulcers often significantly larger, and appear 2 or 3 at a time, or worse still there can be 10-20 or more. They often seem start by themselves as a small bubble or blister (this stage is easy to not notice) which then becomes an open and ulcerated pit or crevass when the pain really starts. Alternatively they can be started by trauma to the lining of the mouth (e.g. by accidently biting onesself). The worst thing about mouth ulcers is the pain that they cause, which is constant, excruciating and made worse by eating, drinking and talking. The picture of the homunculus that you may recall from schooldays shows how very sensitive the mouth and tongue are compared to most other parts of the body - which explains the amount of discomfort caused by something so small.
Your chance to win a Mustela newborn essential Pack worth £25 containing:

- VBC Cream
- 2 in 1 200ml
- Hydrabebe Body Lotion 300ml
- PhysiObebe 300ml
- Domino Game
- Dermo-Cleansing travel size 100ml
First correct answer to be chosen at random when the competition closes, will be the winner, and will be notified by email.
Competition closes on 31st May. Good luck!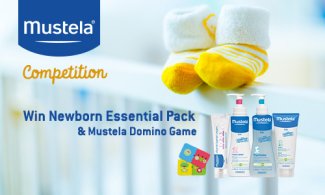 Please log in first to enter the quiz.